Sephora Collection
Sleeping Mask Mono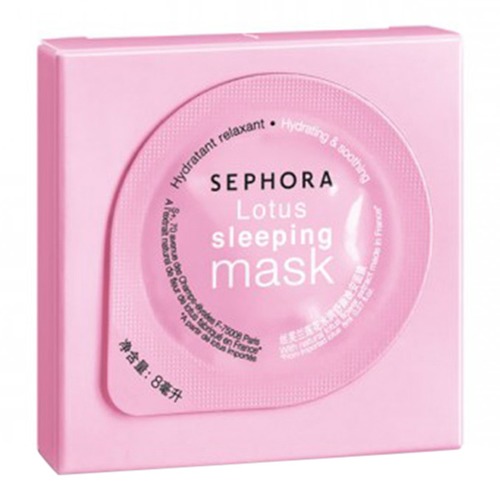 $23.00
$23.00
$23.00
$23.00
$23.00
$23.00
$23.00
$23.00
$23.00
$23.00
Lotus
Job's Tears
White Pearl
Rose
Orchid
Pomegranate
Ginseng
Green Tea
Avocado
Marine Algae

Free Delivery above $350.00
About

This mask contains a luxurious cream-gel texture that absorbs into the skin while you sleep. Upon application, you'll witness a brighter, suppler and more youthful complexion.

Benefits

Nutrient-filled mask
Neutralises free radicals
Boosts collagen production

Use once or twice a week.
Take a small amount with your fingertips.
Massage onto clean face and neck around all areas.
Leave on overnight and if necessary, rinse off the excess in the morning.
All of our products are 100% authentic
ratings & reviews 29 reviews
Noor atiqah
Job's Tears - Love this mask
I totally love this mask. Easy to use and I can see the effect after use a few time of sephora mask. A great deal. Make sure to not miss this out when you purchase something in the Sephora store. Nice smell. I use it every day as a skin care routine.
Adele ariesti
White Pearl - Pearl - Holy Grail of all masks
i'm kinda sad that they don't have in a bigger batch or packaging cause i swear this mask works wonders! It leaves your skin soft, fairer and just more radiantly healthy. Every girl's must have product!
Kels
Ginseng - Good in theory
ive tried this a few times and it sounds really cool, YER sleeping with good stuff on your face should be amazing. But it's just not. You don't wake up with super hydrated skin or feel the same as you would using a regular mask. Whatever you do, don't by the ginseng scented on. Makes my boyfriend gag. It is kinda gross, but the things we do for beauty
Rechelle
White Pearl - Pretty nice
In this small package I used the mask about 4 times. It's best not to rip of the and keep it in a glade bag! Great for an overnight pick me up for my face. I feel it's best to leave on overnight for better results  My skin felt soooo soft, brighten and plumpy! I definately will be buying more in the bigger size and few small ones for when I go travelling:)
Raissa mariano
Orchid - Youth Activating?
This mask is good but I'm not sure it has done anything really noticeable for my skin. I love the scent - it really smells of orchid. The texture is clear and gel like and easily applies to the skin. However, I find that there's a certain tackiness once it has dried. It kind of worried me though since I usually get breakouts when products feel that way on my skin. But luckily, I woke up with a skin that feels refreshed. Perhaps if this is used more regularly and for a prolonged period, the "youth activating and regenerating" may possibly be true. Can't know for sure now, though.
Margeaux
Rose - Smells nice
Product smells nice and is easy to apply. The packaging is weird because you cant seal it - but maybe you can only use it once??? I applied a thin layer all over my face and the next morning woke up with a few little tiny spots so wont be using it again.
Tracey fricker
Pomegranate - Masks are go
My favourite thing about this mask is that it doesn't take an entire tub on one go. Even though it's so cheap, it's lasted me about 4-5 applications and my skin feels great afterwards and smells great.
Pei ling lan
Marine Algae - Third buy
I use it as day mask (not as sleep mask as I'm not comfortable sleeping in it) for 3-5 hirs before wiping off with cotton square soaked in toner. My skin feels hydrated and the pores are less visible.
Bbaa
Job's Tears - soo good
Same review I gave for the lotus mask : I only half of small the container for one night (one pack contains a generous amount and is enough for 2 uses) and my skin felt moisturized and fresh when I woke up!
Mba
Lotus - moisturizes skin!
I only half of small the container for one night (one pack contains a generous amount and is enough for 2 uses) and my skin felt moisturized and fresh when I woke up! I recommend it if you want to feel refreshed!