Sigma Beauty
Sigma Spa® Express Brush Cleaning Glove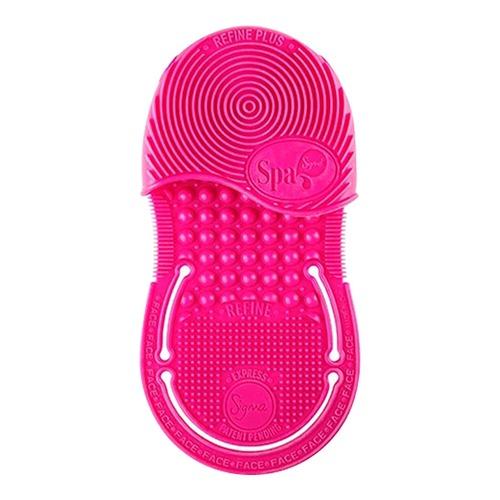 Sigma Spa® Express Brush Cleaning Glove
$202.00
Free Delivery above $350.00
About

This compact cleanser has seven patented textures to wash and refine eye and face brushes.  It is built with a universal strap size, allowing any user to strap around the hand during vigorous cleaning. If you find it tough to clean your tools away from home, this product occupies minimal space for convenient storage and transporting. 

Benefits

Designed for left and right handed people 
Cleans brushes in quick manner
Non-bulky, convenient to carry around

Fit the mat in an up-right position in the sink.
Secure suction cups onto the sink.
After wetting your makeup brushes, add a small amount of cleaning solution and water to the mat.
Swirl brush on 'Wash' texture to clean the brush.
Place the brush under running water, sweeping it back and forth on the 'Rinse' texture to remove makeup residue and soap.
Swirl brush on the 'Refine' texture of the mat to enhance cleaning. 
Repeat rinsing and refining methods until your brush is fully cleaned.
Squeeze brush head with gentle hand to remove excess water. 
All of our products are 100% authentic
ratings & reviews 45 reviews
Rina
Good cleansing tool
The textures on the glove make cleaning brushes more simple. I bought the tool because I wanted to use something else rather than my hands as at times I feel like I couldn't get the soap out with my palms. The glove provides a universally fit strap to be placed around the thumb and wrist to help secure the glove during brush cleaning.
Jilian fong
Fell in love with brush cleaning
This makes it sooooo easy to clean my makeup brushes, especially foundation brushes! Love the satisfaction it gives when my dirty makeup brush bristles turn white when I swirl them onto the glove. The only drawback of this product is that water and soap still gets on your hands, but it isn't really a dealbreaker
Jackie
Makes your brush happy and clean
At first I was having second thoughts with this one because its expensive and will make you wonder if it really does work. Finally I was convinced after seeing the video of the product. So ordered online and yayy it was truly amazing and easy to wash your brushes. My mom saw me cleaning with this and she asked me to ordered one. Its a product I recommend to those who have sets of brushes to clean. 
Rebecca
Convenient!
Purchased this as a reminder to wash my brushes frequently, and it has not disappoint! Very easy to use even though it can be quite nerve-racking when flipping the glove (in fear it will break). I would recommend this to people who travel a lot, does not have a large sink space, or overall does not want a large brush cleaning mat but still want to experience the joy of cleaning your makeup brushes without any hassle.
Patricia ting
As described
I bought this as a travel brush washing mit. I have the original full size brush cleansing mit by Sigma but find that bit too big to be carrying around for travel. This size is perfect for people who would like their brushes cleaned on the go without having to carry too many brushes on their travel. As I have sensitive skin, I wash my brushes after each use and never reuse dirty brushes.
Jazmin bt ahmad johari
Clean Brushes!
I made the right decision by buying this item. It helps me to clean all my makeup brushes and my makeup brushes are cleaner than ever. there's also guidelines on how to use the Sigma Express Mat . I clean my brushes regularly after i bought this amazing cleaning mat. It easy to store due to it's size.
Edwina teng
Great for cleaning your brushes!
I wish I had found this nifty tool earlier. It fits in your hand perfectly, and cleans my brushes super well! I even use this for my bb cushion puffs and sponges. Very easy to clean, dry and store this after using.
Mel
Awesome!
This glove is a lifesaver! I was using my palm to clean my brushes before but this would make my hands get irritated quickly. Now i use this glove and it does a great job of cleaning the brushes too. Highly recommend :)
Vicky
Not as useful
It turns out that it wasn't as useful as I thought it was. I ended up using my palms and took this off. It doesn't get deep into the brushes so the middle parts of my foundation brush still has foundation and when the rubber texture is wet it doesn't have that grip that you think it does. Also my hands end up being wet anyways so for that price definitely a no
D
Does its job
Bought this one over the original glove because the price was more forgiving but I kinda wish I splurged. This is a bit flimsy but the different textures for different face and eye brushes is great! Wish it was more sturdy but cleans my brushes very well!