Tangle Teezer
Original Plum Delicious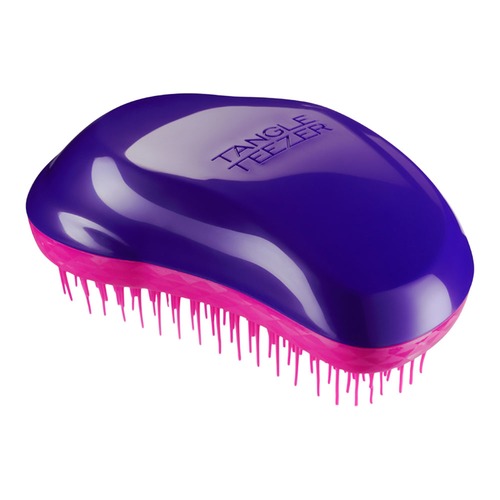 $168.00
Free Delivery above $350.00
About

The professional hairbrush detangles hair efficiently, leaving it smooth and manageable. 

Benefits

Built with patented, uniquely-designed teeth which do not pull at hair shaft and damage hair
Has massaging effect on scalp

Glide Tangle Teezer through wet or dry hair to remove tangles
Can also be used to distribute conditioner and other treatment solutions evenly through hair
All of our products are 100% authentic
ratings & reviews 139 reviews
Hannie hafiz
Detangles
I love this! I have mildly tangled hair and it helps to smooth it out. I even use it for non-detangling purposes. The teeth is soft plastic so it doesn't drag hard on the hair. My sister loves it it too and she's always stealing it from me. So I got the pink one for her! I minus 1 star because it doesn't help with severely tangled hair.
Syaza
Love it!
I have a long hair and my hair always become tangled. I really love tangle teezer because it really helps untangle my hair and my hair becomes silky smooth. My husband and my son also love it too
Rahida abdul rahim
Fantastic!
My hair is long. When first time I used this, I already fall in love. No more tangles hair. It makes my hair more smooth and easy to brush. Less hair falls. My daughters also love to use it. Do they come with kids edition?
Thuc quyen tran
It does it job but makes the hair frizz
This really detangles my hair without stripping any hair out of my head = ) But the problem is that is makes my hair frizzier, and eventually I see a bit of slit hair end so I guess it damages hair a little bit :(
Koo jingwen
TANGLE TEEZER
WITH TANGLE TEEZER, IT REALLY HELP TO TIDY MY HAIR. ESPECIALLY AFTER I BLEACH MY HAIR, I FIND IT REALLY DIFFICULT TO COMB MY HAIR BUT WITH TANGLE TEEZER, IT HELP ME TO UNTANGLE MY HAIR EASILY.REALLY RECOMMEND YOU TO GET IT EVENTHOUGH ITS SLIGHTLY PRICEY. THE ONLY DOWN PART IS THE GRIP BUT THEN AGAIN ITS PORTABLE. :D
Mia wong
No more tangle!
I bought this Tangle Teezer for my 7 years old daughter. Her hair always tends to tangle therefore she always refuse to comb her hair until I bought this for her. The Tangle Teezer can smoothern her hair as well. My daughter totally in love with it!
Alma
Its amazing!!
i bought this thinking of my youngest daughter as she got a curly hair and most of the time she is complaining it hurts when the nanny is combing her tangled hair. so to stop always reminding the nanny to comb gently and slowly i decided to look for something can help solve our problem. i stumbled to this product and it is pretty amazing, no fuss and crying and complains since we got this comb, i just bought one for me too, just now. 
Jaja z
Lived up to its hype
Once I went on an island vacation and didn't bring this (packed lightly lol) and I regretted this decision. It's one of those things you'd only appreciate once it's missing. It's the best detangler for my long straight hair and nothing else comes close!
Jymaxx
great product and value for money
if you haven't tried tangle and you have long hair, you must try tangle! it's amazingly easy for comb and I love this color and it's my 2nd purchase! Get it with luxola sales when it's on discount! it's a great buy! no regret ;)
Audrey tsen
Not bad but over-hyped
I guess I expected more of the tangle teezer because of all the stuff i'd seen about it being super effective at detangling etc. my hair can get very dried out and tangled so I bought this to try. It works ok at detangling, less effort than a basic brush but not as great as I'd imagine it would be for thinner hair (i have super thick hair). what i like about it is that any loose strands that get snagged can be easily removed and it's easy to wash.